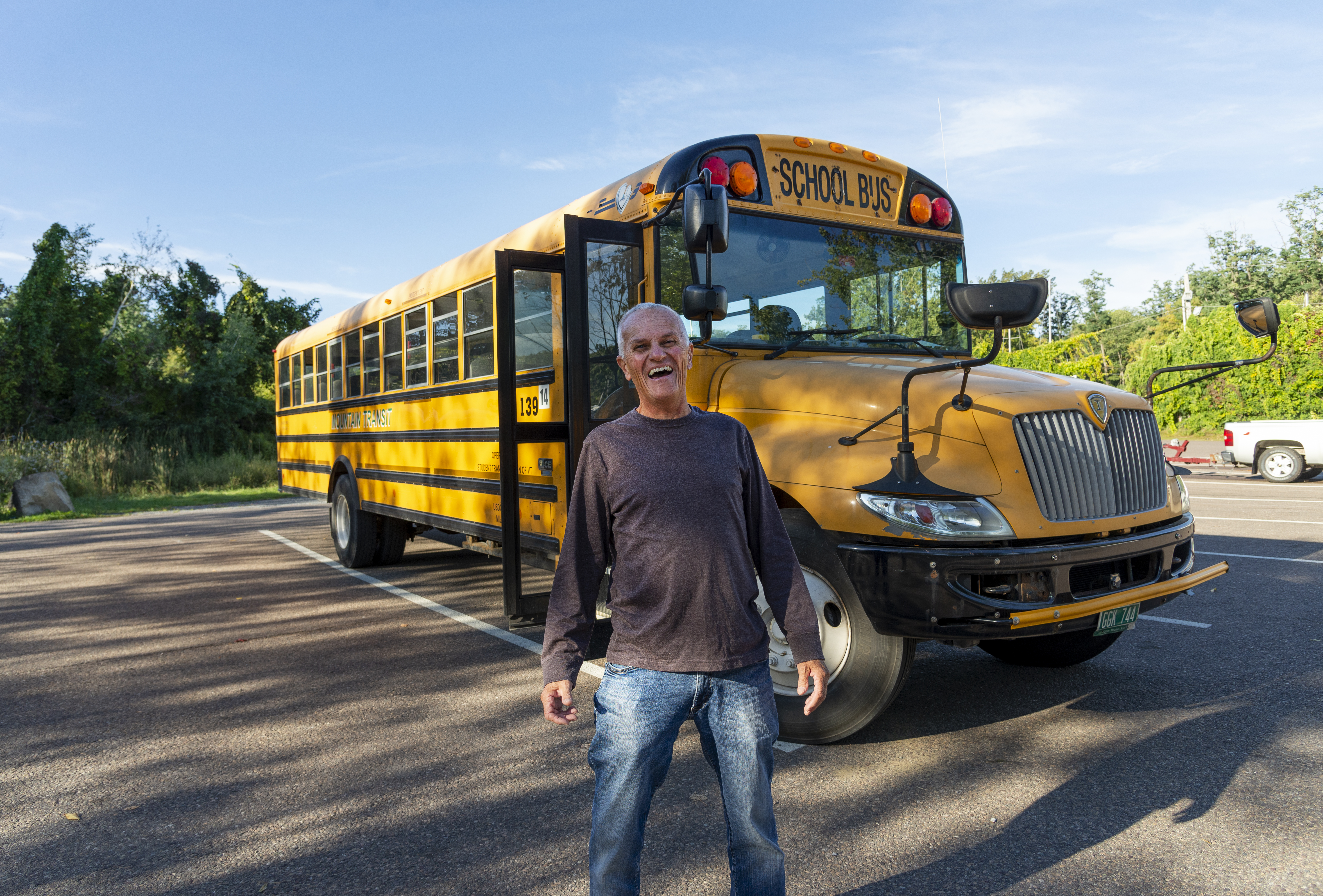 "𝗧𝗵𝗲𝘀𝗲 𝗸𝗶𝗱𝘀, 𝘄𝗵𝗲𝗻 𝘁𝗵𝗲𝘆 𝗴𝗲𝘁 𝗼𝗻 𝗺𝘆 𝗯𝘂𝘀, 𝘁𝗵𝗲𝘆 𝗮𝗿𝗲 𝗺𝘆 𝗸𝗶𝗱𝘀."
Even behind a mask, you can see Mike's vibrant smile as he opens the doors of Colchester's Bus #14. After retiring from 45 dedicated years servicing copiers with SymQuest, Mike decided to spend a few hours a day as a school bus driver, transporting students to and from school each day. He enjoys having downtime to "putter around at home" in between his morning and afternoon run and having summers off, but mostly, he appreciates the importance of his job and the connections he's made with families.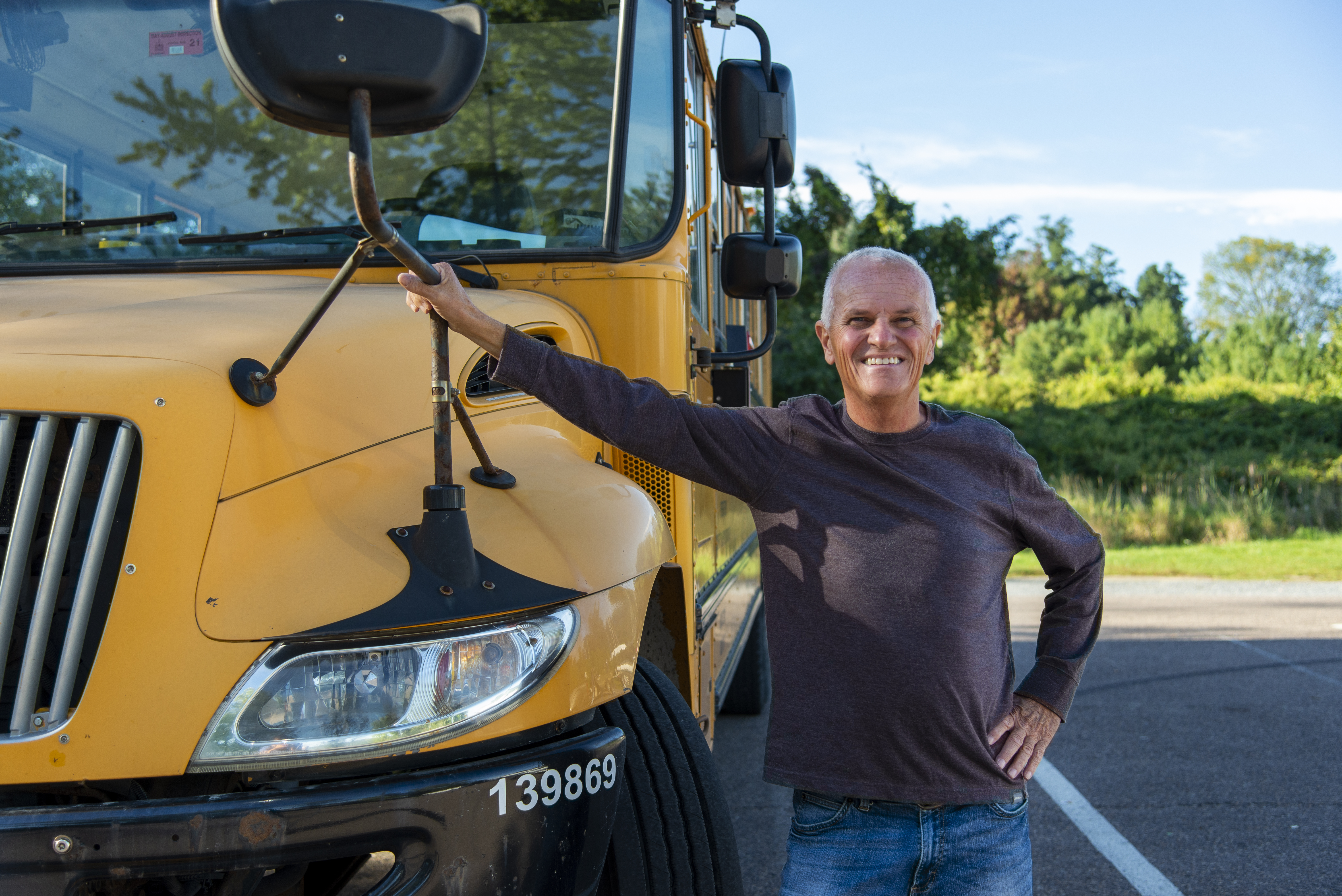 "𝗜'𝘃𝗲 𝗯𝘂𝗶𝗹𝘁 𝘀𝗼𝗺𝗲 𝗿𝗲𝗹𝗮𝘁𝗶𝗼𝗻𝘀𝗵𝗶𝗽𝘀 𝘄𝗶𝘁𝗵 𝘁𝗵𝗲 𝗺𝗼𝗺𝘀 𝗮𝗻𝗱 𝗱𝗮𝗱𝘀 𝘄𝗵𝗼 𝗮𝗿𝗲 𝗽𝘂𝘁𝘁𝗶𝗻𝗴 𝗮 𝗹𝗶𝘁𝘁𝗹𝗲 𝟯𝗿𝗱 𝗴𝗿𝗮𝗱𝗲𝗿 𝗼𝗻 𝗮 𝗯𝘂𝘀 𝗮𝗻𝗱 𝘄𝗮𝘁𝗰𝗵𝗶𝗻𝗴 𝘁𝗵𝗮𝘁 𝗯𝘂𝘀 𝗱𝗿𝗶𝘃𝗲 𝗮𝘄𝗮𝘆. 𝗜𝗳 𝘆𝗼𝘂'𝗿𝗲 𝗮 𝗽𝗮𝗿𝗲𝗻𝘁, 𝗶𝘁 𝗰𝗮𝗻 𝗯𝗲 𝗽𝗿𝗲𝘁𝘁𝘆 𝘀𝘁𝗿𝗲𝗻𝘂𝗼𝘂𝘀. 𝗜 𝘁𝗿𝘆 𝘁𝗼 𝘄𝗮𝘃𝗲 𝘁𝗼 𝘁𝗵𝗲 𝗽𝗮𝗿𝗲𝗻𝘁𝘀 - 𝘁𝗵𝗲𝘆 𝘄𝗮𝗻𝘁 𝗰𝗼𝗻𝗳𝗶𝗱𝗲𝗻𝗰𝗲 𝘁𝗵𝗮𝘁 𝘁𝗵𝗲𝗶𝗿 𝗰𝗵𝗶𝗹𝗱 𝗶𝘀 𝗴𝗼𝗶𝗻𝗴 𝘁𝗼 𝗯𝗲 𝘁𝗮𝗸𝗲𝗻 𝗰𝗮𝗿𝗲 𝗼𝗳, 𝘆𝗼𝘂 𝗸𝗻𝗼𝘄? 𝗜𝘁'𝘀 𝗮 𝗵𝘂𝗴𝗲 𝗿𝗲𝘀𝗽𝗼𝗻𝘀𝗶𝗯𝗶𝗹𝗶𝘁𝘆, 𝗱𝗿𝗶𝘃𝗶𝗻𝗴 𝗮 𝘀𝗰𝗵𝗼𝗼𝗹 𝗯𝘂𝘀. 𝗧𝗵𝗲𝘀𝗲 𝗸𝗶𝗱𝘀, 𝘄𝗵𝗲𝗻 𝘁𝗵𝗲𝘆 𝗴𝗲𝘁 𝗼𝗻 𝗺𝘆 𝗯𝘂𝘀, 𝘁𝗵𝗲𝘆 𝗮𝗿𝗲 𝗺𝘆 𝗸𝗶𝗱𝘀."
Officially, Mike works for the district's bus contractor, Mountain Transit. But we consider those behind the wheels of Colchester buses, part of our CSD community. Even though many of CSD's drivers have been with us for years, Mountain Transit is in need of drivers. We've had to consolidate portions of routes and downsize some of our transportation offerings because of the driver shortage.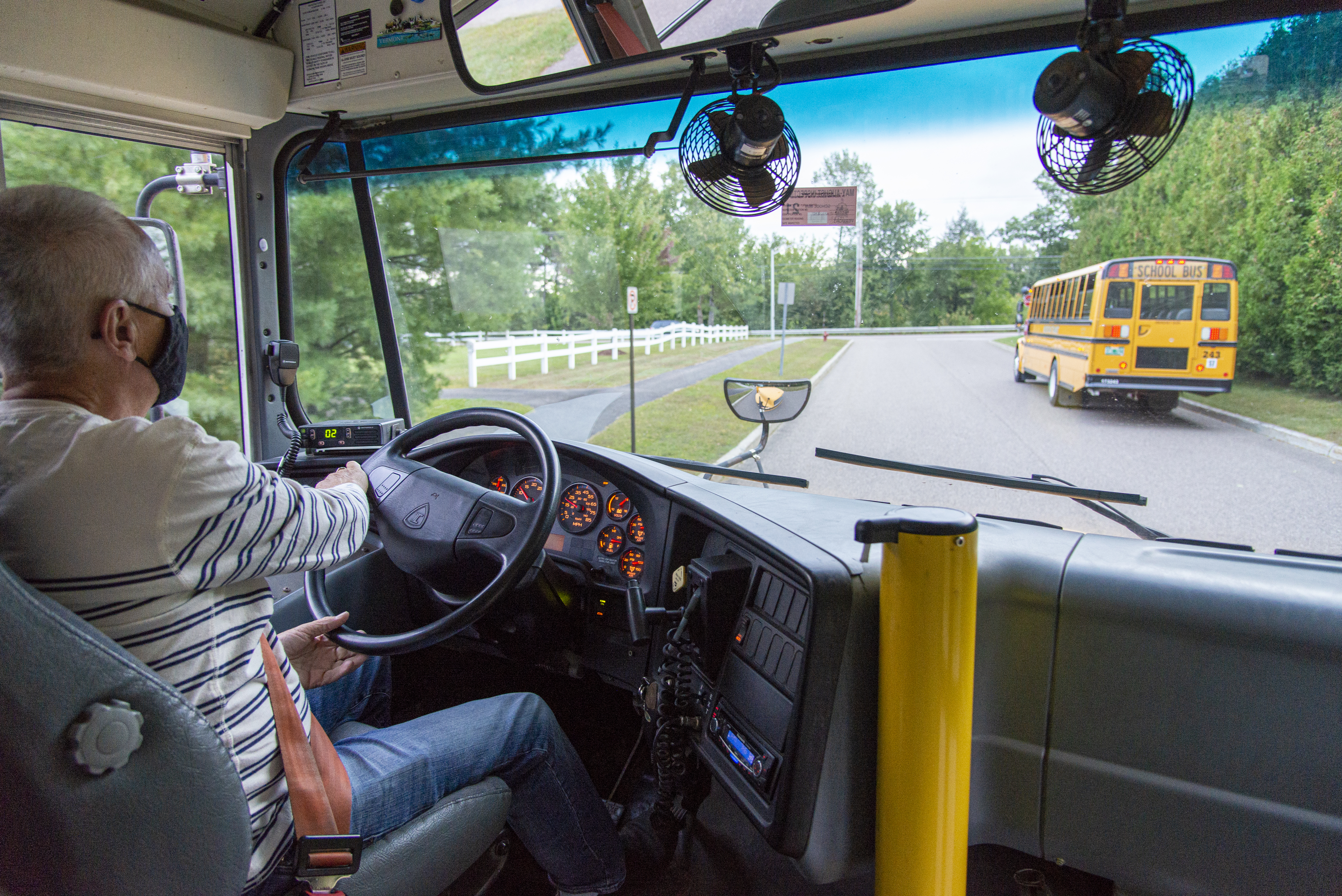 Want to drive for Colchester and make a difference? Here's some information about what to expect if you choose to work for STA/Mountain Transit:
There is a $1500 sign-on bonus
Student Transportation of VT pays an hourly wage during the 44 hours it typically takes to train for a Class B CDL (with a passenger and school bus endorsement).
Once you pass the test and are on the road, wages start at $21 an hour.
A schedule like Mike's, where you drive the morning and afternoon route with a break in between, is about 25 hours a week. They have other contracted work (field trips, sports games, shuttling) to bump it up to full-time hours, if interested.
There is work available in the summer, if interested.
Your child can ride on your bus while you work.
For more information and questions, call Mountain Transit at 893-1334 or apply at: https://tinyurl.com/y38a5pyy. Come drive for Colchester Schools!